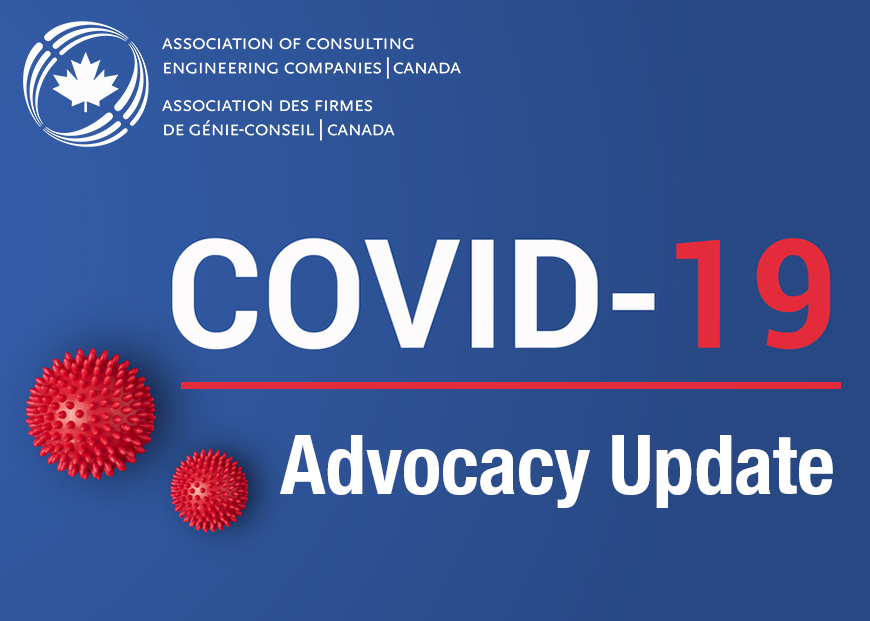 Government creates COVID-19 Construction Industry Roundtable
ACEC and stakeholder partners to have input into COVID-19 response and recovery.
ACEC further establishes itself as an important stakeholder to the government as it starts its planning for economic recovery in the aftermath of COVID-19.
ACEC is participating in the Construction Industry Roundtable created in response to the COVID-19 crisis and convened by the federal government and hosted by the Parliamentary Secretary to Public Services and Procurement Canada (PSPC).
The creation of this stakeholder roundtable is consistent with one of the key recommendations ACEC made to the Minister of Infrastructure and Communities in a letter dated April 16, 2020. The roundtable includes stakeholder groups in the infrastructure and construction industry, such as ACEC, the Canadian Construction Association (CCA), Royal Architectural Institute of Canada (RAIC) and the Canadian Council for Public Private Partnerships (CCPPP), as well as various labour and construction organizations. Senior representatives, including both senior civil servants, elected officials and political staff from PSPC, Infrastructure Canada, and Employment and Social Development Canada (ESDC) also participated.
The roundtable allowed for open discussion and dialogue on potential ways forward for the construction industry during and after the COVID-19 crisis and allowed supporting industry organizations to provide clarity and certainty on how sectors like ours are ready and able to support major infrastructure projects. ACEC President & CEO John Gamble and Vice President Martine Proulx stressed that the effectiveness of infrastructure investments depends on a robust and sustained project pipeline. This would allow all the project partners including owners, designers and constructors as well as the labour and supply chains to retain expertise and capacity and allocate their resources effectively.
This was an opportunity for ACEC to further establish itself as an important stakeholder to the government as it starts its planning for economic recovery in the aftermath of COVID-19. The Parliamentary Secretaries were very receptive to the points raised by industry participants and welcomed the opportunity for further dialogue in the near future through ongoing meetings and discussions.
ACEC believes this will be an important forum moving forward and is pleased to be at the table to ensure the voice of the consulting engineering sector is heard and considered.
In addition to participating in the Construction Industry Roundtable, ACEC continues to communicate with leadership within the federal government and with key stakeholder partners. ACEC has written the Prime Minister and several key cabinets ministers with specific recommendations as to how the consulting engineering sector can retain its capacity in order to help the government mitigate the current crisis and support the post-crisis recovery.
Our recent interactions with the federal government included discussions with Senior Policy Advisor to Minister McKenna, Kate Proctor, to discuss ACEC's departmental recommendations and offer of support. ACEC has conducted outreach to the Chairs of the Standing Committee on Finance and Standing Committee on Industry, Science and Technology, MP Wayne Easter and MP Sherry Romanado, respectively. Despite a busy committee schedule, ACEC is confident it will be able to provide timely insight and recommendations to committee members as part of recovery efforts.
To facilitate recovery, ACEC has continued to advocate for government to accelerate and re-profile infrastructure investments from the backend of existing programming to the next two or three years to create a more even distribution of investments over the remainder of the program.
---