Accutech Engineering Inc.
Kugaaruk, Nunavut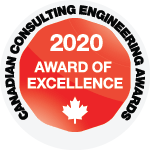 When the only school in the Hamlet of Kugaaruk, population of 933, was destroyed by fire in 2017 the impact was devastating. Since the building functioned not only as a school but as a hub for community gatherings, a replacement was needed immediately. The remote location and fast-tracked schedule created logistical challenges as materials, equipment and labour required transport by a single annual sealift and icebreaker escort. To address the challenging schedule Accutech Engineering Inc. and the Design-Build team created a phased design and fabrication schedule to accommodate long lead-time items on the project's critical path. Projects of this size, in similar locations would typically require 3 to 4 years to complete. Yet through the implementation of a creative and innovative design approach, Accutech Engineering Inc., Kudlik Construction Ltd., and other project stakeholders were able to deliver a state-of-the-art 4,620 m2 school within 24 months in one of the most remote locations with the harshest climate in Canada. The jurors were impressed with the project team's ability to quickly align with stakeholders and address technical challenges to complete the project in a short timeframe.
View ACEC's press release for this project.
View more about this project in Canadian Consulting Engineer magazine.
Hear what the judges had to say about this project.

Learn more about Engineering a Better Canada Award.