SNC-Lavalin
Montreal, Quebec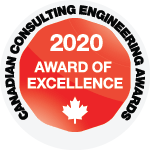 The Government of Canada wanted to provide Montreal with sustainable, distinctive and high-quality infrastructure to replace the original Champlain Bridge. Built in a public-private partnership with Signature on the Saint Lawrence Construction (SSLC) consortium, SNC-Lavalin was the main engineering consulting firm that designed and constructed this project. It involved replacing the original Champlain bridge with a 3.4 km long structure comprising three separate decks supported by thirty-seven uniquely shaped piers and a signature asymmetrical cable-stayed bridge with a single slender tower. In addition to the six traffic lanes and shoulders, the bridge is equipped with a central corridor dedicated to the Réseau express Métropolitain (REM) a light rail transit and a multi-use path for active transportation. The project also involved rebuilding and upgrading the bridge's highway approaches, with the redevelopment of the 4.5 km urban federal highway corridor. The team resourcefully managed challenges and delivered a modern bridge with a design life of 125 years within a tight schedule and harsh climatic conditions, while seamlessly integrating it into its environment. High sustainability and quality standards in design and construction have resulted in an extraordinary and aesthetically pleasing bridge. The completion of the bridge in an accelerated timeframe impressed the jury – particularly in light of the geotechnical, seismic, traffic and alignment issues faced by the project team.
View ACEC's press release for this project.
View more about this project in Canadian Consulting Engineer magazine.
Hear what the judges had to say about this project.

Learn more about the Schreyer Award.