AECOM Canada Ltd.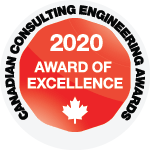 Victoria, British Columbia
AECOM Canada Ltd. and joint venture partner Graham Construction (AGJV), designed and facilitated the construction of the largest solid wall high density polyethylene (HDPE) outfall in North America. The 1.92 km long 2,250 mm DR26 HDPE pipe transporting treated effluent from the McLoughlin Point Wastewater Treatment Plant was constructed in two segments. The first a 120 m long inshore segment, constructed with steel pipe by 'wet exit' microtunneling through bedrock, avoided the use of costly cofferdams, and limited the disruption to the environment in the sensitive intertidal and subtidal zones. The second segment, an 1,800 m long offshore segment, constructed with solid wall HDPE pipe and installed by 'float and sink,' is the largest HDPE outfall in North America. This record setting outfall was notable to the jury for a number of reasons, including the flood management of the underwater tunnelled section, the recovery of the tunnel boring machine from the sea bed, and the minimizing of ecological damage.
View ACEC's press release for this project.
View more about this project in Canadian Consulting Engineer magazine.