Associated Engineering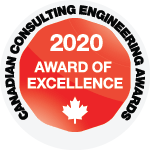 Dawson City, Yukon
Dawson City's 40-year-old drinking water treatment plant struggled to meet current Canadian Drinking Water Quality guidelines. The Yukon Government retained Associated Engineering to provide design and construction services for the largest facility of its type in Western Canada. The design team recommended cartridge filtration for treatment, which had never been used for a system of this size in Western Canada. This unique application of cartridge filtration met water quality guidelines and water demands of the community, while employing a technology that is easy to operate. As the cartridges are washable and reusable, they require replacement only twice a year, a benefit considering the city's remote location and limited access to supplies. The innovative application of this technology provides a robust treatment system and design that can adapt to varying demand to serve the community's population of 1,400 people, which increases to over 5,000 during the summer months. Already a local landmark, the facility's architecture reflects the town's unique character and history. The jury was impressed with the simple yet efficient filtration solution developed by the project team using locally sourced material and trades.
View ACEC's press release for this project.
View more about this project in Canadian Consulting Engineer magazine.