Hatch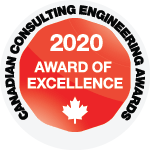 Oakville, Ontario
To accommodate increased capacity the Region of Halton engaged Hatch to provide engineering services for the Mid Halton Wastewater Treatment Plant (WWTP) Phase IV-V Expansion Project in Oakville, Ontario. As part of this project, a new dedicated effluent outfall tunnel was needed to convey treated effluent from the plant to a diffuser field located offshore of Lake Ontario. The WWTP is located 40 km from the lake shoreline and consequently is 40 m higher in elevation than the lake level. Utilizing this elevation difference, a micro-hydro system was installed in the effluent outfall to provide a source of sustainable power generation, reducing the carbon footprint and energy costs of the WWTP. Additional benefits to the region included reduced operating costs and community recognition as being an environmentally conscious organization. This use of hydropower technology in a municipal wastewater treatment setting is one of the first of its kind and exemplifies the evolving role of WWTP from wastewater treatment to resource recovery. The transformation of a waste treatment plant to a resource recovery facility made this project a stand out for the jury with its ingenuity.
View ACEC's press release for this project.
View more about this project in Canadian Consulting Engineer magazine.