Robinson Consultants Inc.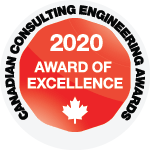 Halifax, Nova Scotia
The Northwest Arm Trunk Sewer (NATS), an inaccessible 100-year-old 4,000 m long trunk sewer, was one of the most challenging cured-in-place pipe (CIPP) rehabilitation projects ever completed in the country. To address significant challenges including limited access, accelerated completion schedule and the need for complex engineering design, Robinson Consultants Inc. developed an innovative and cost-effective design and tendering process that resulted in a record-breaking solution that included the longest single continuous installation length at 682 m. The use of CIPP significantly reduced the construction footprint and the risk of sediment and other contaminants from spilling into the Northwest Arm inlet. This approach further provided benefits in the reduction of greenhouse gas emissions produced during construction. The team was able to achieve the project's primary goals of removing debris, restoring structural integrity, eliminating exfiltration, establishing a corrosion barrier, and extending the life of the sewer up to 75 years, all while minimizing the social, environmental, and cost implications associated with construction. This challenging sewer relining project impressed the jurors with the minimal disruption it caused to the neighbourhood, the cost savings it generated compared to alternate methods and its completion on a very tight schedule.
View ACEC's press release for this project.
View more about this project in Canadian Consulting Engineer magazine.