Associated Engineering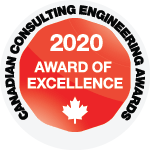 Fort McMurray and vicinity, Alberta
The 2016 Horse River Wildfire devastated Fort McMurray and surrounding areas within the Regional Municipality of Wood Buffalo (RMWB). Recognizing the increased risk of flooding and landslides and the additional damage it could cause to property and the environment, the RMWB retained Associated Engineering to prioritize wildfire-damaged erosion sites and develop restoration solutions. Through assessment and evaluation, the integrated team of engineers and environmental scientists identified fourteen sites, predominantly ravines and steep slopes, as having the highest potential risk. Recognizing that traditional engineering solutions requiring heavy equipment would only further damage the sensitive environment, bioengineering was recommended as the primary erosion repair strategy, augmented by more conventional engineering solutions. Almost 70,000 m2 of land were restored, making this one of the largest bioengineering projects in the region. This project demonstrates the success of combining natural and engineered solutions to address erosion, drainage and slope stability issues. Revegetated areas have already begun to build ecological resiliency and restore watersheds and wildlife habitat. The project's sensitive approach to restoring the landscape while making it resilient showcased to the jury how solutions can be cost effective and environmentally respectful.
View ACEC's press release for this project.
View more about this project in Canadian Consulting Engineer magazine.