BBA
Rankin Inlet, Nunavut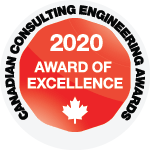 Agnico Eagle's Meliadine mine, located 25 km north of Rankin Inlet, Nunavut, is one of Canada's largest mining projects since 2015. Accessible only by sea and air, supplying power to such remote mining facilities can be extremely challenging. Agnico Eagle was in search of an efficient, eco-friendly, safe and cost-effective solution. BBA carried out the detailed engineering and participated in the construction management and commissioning of a 28 MW cogeneration plant, equipped with five generators, as well as the mine site's thermal and electrical systems. Given the highly variable electrical and thermal loads, the team proposed an efficient and reliable solution that optimized the heat recovery process. The high-performance generators and the heat recovery system's innovative design led to a total estimated energy efficiency of 80% and reduced diesel consumption by 4.5M litres per year. For the jury, this project was an excellent example of value engineering - exceeding the client's immediate needs with a long-term holistic perspective to the design process.
View ACEC's press release for this project.
View more about this project in Canadian Consulting Engineer magazine.