Hatch
Grand Falls, Newfoundland & Labrador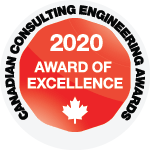 Constructed in 1909, the Grand Falls Dam had deteriorated to the point where an upgrade was required in order to meet current safety standards. During the initial construction phase of the rehabilitation, serious constructability and safety issues arose. Hatch was tasked with devising a plan to eliminate these concerns. Within a month, by applying advanced hydrotechnical principles and a first of its kind 'flash board' cofferdam solution, a safe, innovative, environmentally friendly, cost effective, and constructible design plan that could be completed in a single construction season was developed. Design and construction proceeded utilizing the focused engineering efforts of this plan. Through a collaborative approach combined with the application of sound engineering principles, the project was completed well below the original design budget and a year ahead of schedule. The team approach and innovative design solutions developed during the course of this highly successful project will serve as a model for future rehabilitation projects. The jurors selected this project for its unique approach to rehabilitation, it's completion under budget and a year ahead of schedule with no lost time safety incidents or environmental losses.
View ACEC's press release for this project.
View more about this project in Canadian Consulting Engineer magazine.