Englobe
Prince Patrick Island, Northwest Territories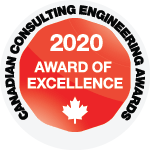 Mould Bay, surrounded by sensitive aquatic and land ecosystems, is 1 of 5 High Arctic weather stations and one of the least accessible locations in Canada. Englobe was retained to manage the reconstruction of the Mould Bay causeway connecting the station and site access roads. Located on the 76th parallel and accessible only by air the island has an extremely short and unpredictable operating weather window. The greatest challenges related to site access and logistics that were overcome with the use of specialized equipment, including a Lockheed C-130 Hercules. Englobe had to be resourceful when moving machinery and equipment to optimize productivity while respecting volume and weight restrictions of different aircrafts. 30% of the total workforce were from neighbouring communities who became actively involved in the health and safety initiatives. A mentoring approach was also established to maximize knowledge transfer between both parties. Approximately $4.1M was injected into the economy, including $250K invested into Inuvialuit companies and $3M to local airline companies. In selecting this submission as an award winner, the jury noted the sophisticated risk management required for the execution of this project because of its location in difficult conditions in Canada's high Artic.
View ACEC's press release for this project.
View more about this project in Canadian Consulting Engineer magazine.