Hatch
Saguenay, Quebec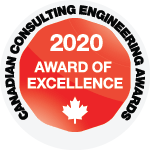 Rio Tinto's Vaudreuil Works is the largest inorganic chemistry center in Canada. As the existing residue disposal area (RDA) was limited, Hatch was engaged to provide full engineering, procurement and construction management (EPCM) services for opening a new filtration facility delivering at least 70% solids content bauxite residue, while maintaining operations at the refinery. Reducing costs and operational risks and meeting accelerated timelines were critical; any delay in project implementation or operational issues would impact the refinery production. Conventional reduction exercises were expanded to bring the project in at 12% under the approved budget. To achieve another key priority of zero harm throughout the project, the team implemented a 'Stop & Seek' health and safety (HSE) program that encouraged workers to stop and seek assistance when faced with a potential safety hazard. The end result was a project without any harm, and a new facility that is becoming a world leader in the Bauxite Residue Management industry. The jurors were impressed with how the project achieved significant reductions for residue storage, in dust emissions, and in residue processing time from 3 years to 17 minutes.
View ACEC's press release for this project.
View more about this project in Canadian Consulting Engineer magazine.