Daniels Wingerak Engineering Ltd.
Saskatoon, Saskatchewan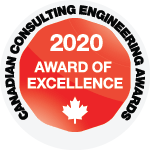 Saskatchewan was one of only two provinces in Canada without a dedicated children's hospital. To fill this void the Jim Pattison Children's Hospital, a modern facility with state-of-the-art equipment and services, was constructed. The mechanical systems required to serve this hospital needed to meet stringent safety standards while being mindful of the energy impact. Daniels Wingerak Engineering Ltd.'s use of innovative technologies and careful mechanical design created the ability for the hospital to convert to a 100% fresh air 'pandemic mode' system which was quickly utilized during the COVID-19 crisis. The construction site, connected to and adjacent to an existing hospital, brought many challenges and drove design innovation. Integrating the mechanical systems of both facilities allowed for each hospital to benefit from increased efficiency by reducing redundancy. The 176-bed facility not only provides the highest quality of care; it has put Saskatchewan at the forefront of research and innovation. The addition of a pandemic mode to the ventilation system was one of the features that stood out to the jury, who noted the timeliness of this design feature.
View ACEC's press release for this project.
View more about this project in Canadian Consulting Engineer magazine.