R.F. Binnie & Associates
Burnaby, British Columbia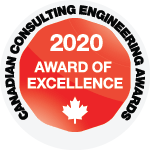 The British Columbia Institute of Technology (BCIT) is one of the provinces largest post-secondary institutions. With aging electrical infrastructure at the end of its serviceable life at its Burnaby campus, R.F. Binnie & Associates was tasked to deliver essential upgrades to BCIT's electrical and civil infrastructure while establishing the necessary foundation for future campus development. The project was completed in a short timeline so as not to disrupt access to campus and classes. An Integrated design team was implemented to deliver this project which resulted in nine new electrical substations with 5.5 km of new linear infrastructure, as well as new streetscape and landscape improvements. Achieving the project objectives in an environmentally sustainable and responsible manner was important for BCIT and the project team, who looked to the Institute for Sustainable Infrastructure (ISI) to verify the project against ISI's Envision framework. This was the first educational institution to receive an Envision Gold award in Canada. The jury noted how sustainability was a major driver of this large municipal project, and how it was completed while maintaining the school's operations.
View ACEC's press release for this project.
View more about this project in Canadian Consulting Engineer magazine.