John G. Cooke & Associates Ltd.
Ottawa, Ontario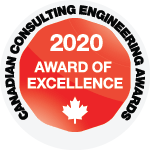 Constructed in 1912, once Ottawa's central railway station, the Government Conference Centre (GCC) was in need of repurposing to serve as the temporary home for the Senate of Canada. Structurally, this involved masonry conservation, seismic upgrading, new floor plates and an addition. John G. Cooke & Associates Ltd. employed creative solutions to balance heritage conservation while meeting current building codes and overcoming the challenges that arose due to the compressed schedule and changes in design. The conservation and rehabilitation of this building adds to the richness and variety of the streetscape. It is an example of how the character and history of a building can enhance the identity of a city and a nation, and how heritage status buildings can be repurposed for current needs. After being closed to the public for over 55 years, this building is once again a part of the community. The significant seismic upgrades and creation of additional interior floor space earned this project high marks from the jury.
View ACEC's press release for this project.
View more about this project in Canadian Consulting Engineer magazine.