Ojdrovic + Cooke Engineers in Joint Venture
Ottawa, Ontario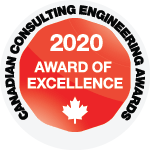 The $863M restoration and redevelopment of the West Block Parliament Building was one of the largest heritage rehabilitation projects in North America. Tasked as the structural engineers of record, the firms of Ojdrovic + Cooke Engineers in Joint Venture, worked to ensure it would remain a strong symbol for the people of Canada. The project involved rehabilitation, modification and strengthening of the existing heritage masonry and construction of several levels under and above ground within the existing courtyard. Innovative technologies were carefully balanced with conservation principles to address challenges and ensure minimal intervention to the building. The House of Commons now sits within a structural steel forest under a glazed roof with a view of the restored and seismically strengthened 19th century stone masonry building. The rehabilitation and construction of this contemporary addition has expanded the life of an existing landmark which will continue to contribute to the living story of Parliament Hill and Canada in the future. The project impressed the jury for its respect for the heritage characteristics of the building while upgrading the facility to modern building codes using the latest technology.
View ACEC's press release for this project.
View more about this project in Canadian Consulting Engineer magazine.