Morrison Hershfield
Etobicoke, Ontario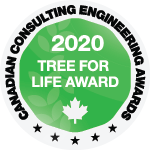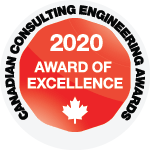 A holistic deep energy retrofit has transformed Building NX at Humber College into one of the most energy efficient buildings in North America. It is the first existing building retrofit in Canada to achieve Zero Carbon Building-Design Certification from the Canada Green Building Council (CaGBC). The building is also expected to achieve EnerPHit Passive House certification – one of the most stringent energy efficiency standards in the world. The aging building suffered from a number of systematic building failures, such as air infiltration, water penetration, condensation and temperature fluctuations, resulting in a less than ideal indoor environment for building occupants. Morrison Hershfield, in collaboration with Humber College and project partners, undertook a complete envelope retrofit, implemented energy efficient upgrades to heating, cooling and lighting systems and installed a new solar photovoltaic system. Passive design strategies for the building enclosure were maximized to significantly reduce the amount of heating and cooling required. Acute attention was paid to the air tightness and thermal continuity of the building envelope and robust testing and commissioning procedures were implemented throughout construction. Design and procurement challenges were overcome through collaborative decision making, innovation and careful coordination and staging of work. Building NX project offers great insight to engineers, architects and facility owners, as it showcases Canada's readiness to retrofit buildings to zero carbon and make a positive contribution to global climate change efforts. Achieving net zero for an existing, leaky and drafty building stood out to the jury, who believe this project showcases the capacity of engineering at the forefront of making our old buildings sustainable.
View ACEC's press release for this project.
View more about this project in Canadian Consulting Engineer magazine.
Hear what the judges had to say about this project.

Learn more about the Tree for Life Award from the award's sponsor BBA.