RJC Engineers
Vancouver, British Columbia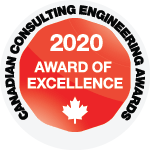 Located between the Emily Carr University of Art + Design and PCI Developments' new office building, sits a lotus flower shaped pavilion. It is a unique community gathering place for arts students and the adjoined office building. To accommodate the complex shape RJC Engineers supported the development of a simple yet unique hybrid timber-steel structure with digital modelling working alongside Spearhead Inc. Creating the initial form to be both efficient and buildable while respecting the complex shape was a significant challenge. Additional complexities included selecting materials to create the double curvature shapes of the petals and the design of a steel moment connection. To address the complex geometry, a shallow dome structure was incorporated into the lower roof structure. Through digital modelling that ensured the architectural requirements were met, and creative collaboration amongst the integrated project team, the project vision blossomed into reality. The complex design and geometry of this structure impressed the jury, who noted the innovative use of digital modeling and precision cutting and fabrication technology to support the architectural vision of the project.
View ACEC's press release for this project.
View more about this project in Canadian Consulting Engineer magazine.