WSP
Quebec, Quebec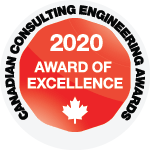 To meet its changing needs, the National Assembly of Quebec has had to improve its facilities by adding spaces that are better suited to visitors and the holding of parliamentary committees, without compromising the heritage, symbolic and identity character of the Parliament Building. The solution recommended by the implementation team was to create an underground reception pavilion, which contributes to the enhancement of the heritage landscape. Thanks to WSP's civil and structural engineering services, innovative principles made it possible to realize the bold concept. The engineering of the numerous underground structures near and under heritage masonry buildings was an extraordinary technical challenge. Prior to the improvement of its infrastructure, the National Assembly was struggling to accommodate more than 124,000 visitors per year. Citizens can now enjoy safer access to the National Assembly, ensuring that even more people will be able to visit this symbol of Quebec democracy. Addressing the complexity and structural challenges involved with creating new space below the existing parliamentary building and receiving LEED Silver certification were significant achievements noted by the jury.
View ACEC's press release for this project.
View more about this project in Canadian Consulting Engineer magazine.