Dillon Consulting Limited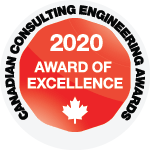 London, Ontario
Constructed in 1875, Blackfriars Bridge is one of the oldest surviving wrought-iron bowstring arch-truss bridges in North America. Dillon Consulting Limited was retained by the City of London to help address the challenge of rehabilitating this heritage bridge to provide added strength while preserving its aesthetic character. Merging original bridge details with modern code requirements created unique design and construction challenges for the Dillon team which they overcame by combining classic hot-riveting techniques with modern technologies. Roadway engineering, landscape architecture, park enhancements and climate change challenges were addressed across the environmental assessment, detailed design and construction phases. The service life of the bridge was greatly extended, while avoiding costly replacements and loss of service due to bridge closure, achieving good value for money to the City and taxpayers. The rehabilitation of this bridge has renewed this iconic structure for new generations to enjoy, while enhancing the City's transportation network within its downtown core. The bridge has not only met the future needs of the City, but has become an integral part of the community identity and gateway to the past. The jury recognized this project for the significant efforts made by all parties to replicate the construction methods used for this heritage structure during its restoration.
View ACEC's press release for this project.
View more about this project in Canadian Consulting Engineer magazine.