Pedelta Canada Inc.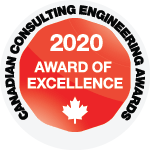 Toronto, Ontario
To enhance accessibility and foster connectivity of expanding communities around historic Fort York, CreateTO sought development of a new pedestrian and cyclist link to Toronto's waterfront over two of Canada's busiest rail corridors. The key design challenge was the need to achieve landmark quality in a heritage setting within a tight budget. Pedelta Canada Inc. designed two pedestrian and cycle bridges utilizing Duplex stainless steel for the entirety of the structure, an unprecedented technical innovation in North America. The pioneering use of this forefront technology provided premium aesthetics within a unique setting, in addition to a safe and durable transportation asset. The completed structure has an extended life cycle, is more corrosion-resistant, and requires less maintenance thus reducing overall cost. The project is not simply a new addition to Toronto's physical infrastructure, it is a social device that promotes sustainability as well as emphasizing the cultural heritage of the city. The innovative use of duplex stainless steel for the entirety of the bridge was applauded by the jury as an excellent technical innovation for long-term durability in Canada.
View ACEC's press release for this project.
View more about this project in Canadian Consulting Engineer magazine.