Calgary, Alberta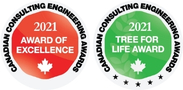 As part of its strategic vision towards a carbon neutral campus by 2050, the University of Calgary commissioned a consulting team that included Entuitive for a retrofit of the existing 1970 MacKimmie Tower. The goal was to transform it into a leading edge, high-performance, net-zero carbon building. The Tower is now 85% more energy efficient and has been recognized by the Canadian Green Build Council with a provincial and national Green Building Excellence Zero Carbon Award. It serves as a model of what can be done to existing buildings to help achieve our carbon neutral goals. This project earned high marks from the jury for the addition of two additional floors and achieving net zero status, a difficult accomplishment in an existing build.
View ACEC's press release for this project.
View more about this project in Canadian Consulting Engineer magazine.
Hear what the Jury Chair had to say about this project.
Learn more about the Tree for Life Award.