Vancouver, British Columbia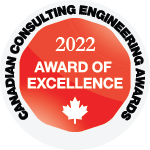 Fast + Epp's four-storey home office building embraces design elegance and stimulates curiosity - traits the firm has become known for. The office serves as a 'living laboratory' with new ideas and technologies being tested both during construction and throughout the life-cycle of the building. With an emphasis on promoting employee wellness and productivity, the building combines the latest in sustainable design strategies while taking full advantage of the spectacular mountain views to the north. With impressive features such as the computer-controlled adaptive glass windows, the creative use of mass timber and steel construction, along with consideration of the well-being of staff as the driver of the building's design, this project earned high marks from the jury.
View ACEC's press release for this project.
View more about this project in Canadian Consulting Engineer magazine.