Calgary, Alberta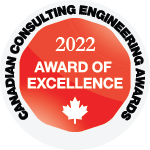 Associated Engineering's innovative design for rehabilitating and widening Calgary's Crowchild Trail Bow River Bridge Interchange improves functionality and safety and extends the life of the 50-year-old structure. The cost-effective, sustainable solution reused the existing structure, reducing demolition, limiting waste, and protecting the river. The complex traffic staging plan mitigated interruption to commuters, railways, and businesses. Widening the bridge and realigning the access ramps relieves congestion, decreases emissions, and improves the experience for over 100,000 daily commuters. As the first of its kind project in Alberta, the jurors were impressed by the consultant's resourcefulness in delivering a very cost-effective bridge restoration and widening, all while improving safety, keeping traffic open during construction, and limiting impact to the river and aquatic life.
View ACEC's press release for this project.
View more about this project in Canadian Consulting Engineer magazine.