Vancouver, British Columbia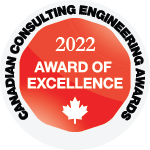 The Highway 1 Keith Road Mt Seymour Parkway Interchange Project & Lynn Creek Connectivity Improvement Program relieved highway congestion, improved road safety, and addressed municipal connectivity and active transportation needs for the communities of Vancouver's North Shore. The project had a constrained timeline tied to funding with no room for budget overruns. McElhanney successfully delivered this project for the Ministry of Transportation and Infrastructure using innovative design and scheduling strategies, while incorporating significant environmental and active transportation improvements to the region. This project earned high marks from the jury for the team's ability to accelerate the design schedule from 15 to 8 months in order to align with construction seasons. The effective use of value engineering while keeping the project on budget and meeting the needs of the community were also noteworthy for the jurors.
View ACEC's press release for this project.
View more about this project in Canadian Consulting Engineer magazine.