Northern BC, British Columbia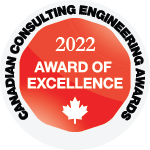 Public Services and Procurement Canada teamed with Tetra Tech to develop a multi-disciplinary study on the infrastructure vulnerability and risk assessment due to changing climate and extreme weather events for the Alaska Highway. The project posed many unique challenges, including the incorporation of 410 culverts, 74 geotechnical assets, and 24 bridges into the asset decision-making framework. While the study's approach addresses unique characteristics of the strategically important Alaska Highway corridor, the principals can conceptually be applied to any asset network, anywhere in the world. This project was impressive to the jury for addressing infrastructure resilience, a key challenge in the transportation sector. They also remarked how this original research will be transferable to future projects by broadly improving asset management practices, providing economic benefits and environmental protection.
View ACEC's press release for this project.
View more about this project in Canadian Consulting Engineer magazine.