Ottawa, Ontario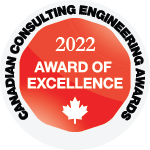 Stantec designed a multi-purpose Combined Sewage Storage Tunnel (CSST) facility for the City of Ottawa to reduce the volume and frequency of combined sewer overflows into the Ottawa River. The CSST also provides basement flood risk reduction in Centertown, twins an existing critical sewer through the downtown core, and is integrated with the City's real-time-control system thereby providing operational resiliency. It acts as a flow conveyance and storage tunnel that drains by gravity, thus avoiding a costly dewatering pumping station. The CSST will improve the health of the Ottawa River, benefiting the City of Ottawa, the environment and the people who live, work, visit, and play in our nation's capital. The jury highlighted this project as a great example of high-quality engineering with a big-picture perspective on the implications of population growth and climate change. This resulted in a very well-integrated solution to an overflow problem that addressed several environmental issues and allows more flexibility for the entire sewer network.
View ACEC's press release for this project.
View more about this project in Canadian Consulting Engineer magazine.