Sudbury, Ontario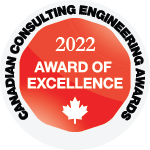 Glencore engaged Hatch to provide full engineering, procurement, and construction management services on $288 million in process upgrade projects to reduce sulfur dioxide (SO2) and particulate emissions at their smelter in Sudbury, Ontario. Critical to the long-term viability of their Sudbury Integrated Nickel Operation, these projects were complex, brownfield executions that involved modifying virtually every major smelter process while maintaining 24-hour-per-day operations. Community engagement was critical, particularly given the project's goal to reduce environmental impacts. The jury noted the extensive menu of process improvements throughout the plant to reduce emissions. They also noted the need to shoehorn improvements into an existing operation as being quite remarkable. The longevity of the project with zero lost work injuries was another impressive accomplishment.
View ACEC's press release for this project.
View more about this project in Canadian Consulting Engineer magazine.