Rocky Rapids, Alberta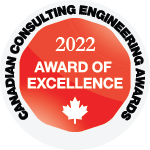 The Town of Drayton Valley's original water treatment plant was used solely to pump raw water to their new water treatment plant. ISL designed and delivered a new pump station using the Canadian Construction Documents Committee (CCDC30) contract for Integrated Project Delivery, a first for a Canadian municipal infrastructure project. Designing and building a visually unobtrusive pump station on a flood plain carried substantial challenges. This project could only succeed with early collaboration and innovative thinking that challenged traditional methods. This revolutionary approach required leveraging ISL's experience, ensuring construction informed design and eliminating the preventable adversity often seen in traditional project deliveries. The jury applauded the team's ability deliver the project below budget through the creative reuse of existing infrastructure and while implementing a new integrated project management approach.
View ACEC's press release for this project.
View more about this project in Canadian Consulting Engineer magazine.