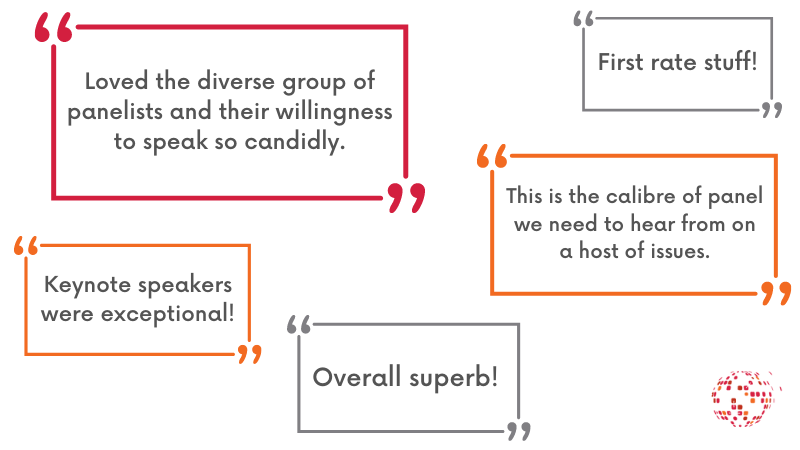 The reviews are in!

ACEC's first ever virtual conference was an unqualified success with the over 150 industry members participating.

The business program, with the theme of Reimagining our World, explored the larger themes with which Canada and the world have been trying to come to terms with. Where are we as an industry? Where should we go and how do we get there?
Through meaningful dialogue, panelists tackled the questions of how our industry should recalibrate and what consulting engineering firms need to do to position themselves for the future.
Missed the opportunity to be part of this discussion?
You still have a chance to hear from the great line-up of keynote speakers, panelists and moderators who shared their views on how we can rethink the fundamentals of our industry and the role we should and can play in supporting society's evolution toward a greener, more inclusive world.
Click here to view the following sessions recordings in the ACEC Members Only website
Opening Keynote & Fireside Chat with:
Stephen Poloz, Special Advisor - Osler, 9th Governor of the Bank of Canada and Jeff Lutzak, CA, CPA, Partner, RSM Canada
A green and sustainable future - reimagining the relationship between the economy and the environment with:
Mathieu Bélanger, Director, Urban Planning and Sustainable Development, City of Gatineau
Leon Botham, Principal Engineer, NewFields Canada Mining & Environment ULC
Michelle Chislett, Managing Director, Canada & US Development, Northland Power
Jérôme Pelletier, President and CEO, BBA
Angel Ransom, Director of Operations and Impact Assessment Lead, First Nations Major Projects Coalition (Moderator)
A place for everyone - reimagining our communities to create a diverse and inclusive society with:
Ryan Dunbar, President, SOAR
Katherine Miller, Rail & Transit Engineer (EIT), Mott MacDonald
Russell Pollard, Principal, Framework Leadership
Vanessa Raquel Raponi, Founder, Engiqueers Canada
Nick Schiavo, Director, Social Policy and Government Relations, Impact Public Affairs (Moderator)
Industry in flux - reimagining business models for future success with:
Marie-Claude Dumas, President & CEO, WSP Canada
John Flewelling, President & CEO, CBCL Group
Gordon Johnston, President & CEO, Stantec
François Plourde, President & CEO, CIMA+
Anthony Karakatsanis, President & CEO, Morrison Hershfield (Moderator)
Looking Ahead to 2022
On the heels of this success, we're already looking ahead to 2022. Help us make next year's conference an event you won't want to miss. What would you like ACEC to organize for 2022 – an in-person conference, a virtual event, both?Let us know by answering this 2 minute survey!
Sponsors
Thank you to our generous sponsors for their support.