The 20 Days of Excellence in Engineering
Showcasing award-winning projects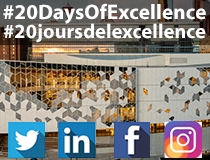 Throughout the month of November, for 20 days ACEC will showcase a different award-winning project every weekday. These awards highlight the outstanding talent and expertise of Canadian consulting engineering firms as well as their contribution to Canadians' quality of life and the huge impact they have both here and around the world.
ACEC's #20DaysOfExcellence in Engineering campaign was the recipient of the 2019 FIDIC Member Association (MA) Award and the 2019 CSAE Award of Distinction in the 'Delivering Value to Member & Stakeholder Segments' category.

See the Campaign on Twitter via #20DaysOfExcellence.
See all the 2019 award-winning projects by project category.
See the 2019 awards edition of Canadian Consulting Engineer magazine (CCE)
Learn more about the Canadian Consulting Engineering Awards.