Who is Notarius
A leading expert in electronic signatures, digital signatures, and long-term document reliability since 1998, Notarius is the only Canadian firm that issues trusted signatures recognized by Adobe (Adobe Approved Trust List – AATL) and eIDAS (electronic IDentification Authentication and trust Services).
Since its creation, Notarius has positioned itself as a Canadian market leader by ensuring the integrity and authenticity of official documents for transactions between a wide variety of professionals, business partners, clients, municipalities and government agencies. This cyber security initiative is designed to protect the public and enable professionals to sign electronic documents with the same legal value as a paper document signed by hand. Used by more than 30 professional associations in Canada, over 4000 companies and thousands of professionals across the world, Notarius' digital signature certificates are a secure, effective and economical solution that is now an integral part of many trades, professions and organizations.
Since 1998, the Notarius Certificate Authority (CA), based on a Public Key Infrastructure (PKI), has been recognized and trusted by government agencies. In 2007, the Notarius Certificate Authority was the first in North America to be certified ISO 27001 (Information Security Management). Notarius is also certified ISO 9001 (quality management) and is a member of leading organizations in the field of trusted third parties (FNTC, DIACC and the PDF Association).

Notarius Products and Services
Notarius offers high-reliability, state-of-the-art solutions that meet the needs of its clients in terms of document cyber security, cost reduction, increased productivity and environmental conservation.
Our product offering is broken down into three categories:
CertifiO: The digital signature that certifies the signer's identity, professional status or organizational affiliation.
ConsignO: Legally reliable document creation and signing solutions.
VerifiO: Document verification and signature validation.
They chose Notarius
Notarius' digital signature solutions are used in numerous professions across the world.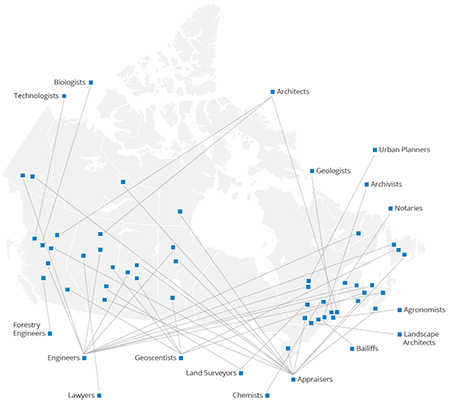 How to Obtain a Digital Signature

Association of Professional Engineers and Geoscientists of Alberta (APEGA)
Association of Professional Engineers and Geoscientists of Saskatchewan (APEGS)
Engineers Geoscientists Manitoba
Engineers and Geoscientists BC
Ordre des ingénieurs du Québec (OIQ)
Engineers & Geoscientists New Brunswick (APEGNB)
Professional Engineers and Geoscientists Newfoundland & Labrador (PEGNL)
Professional Engineers Ontario
Northwest Territories and Nunavut Association of Professional Engineers and Geoscientists
To learn more about our solutions, visit www.notarius.com or contact us at info@notarius.com