2019 BEAUBIEN AWARD
The Beaubien Award (in honour of Dr. James de Gaspé Beaubien) is conferred as the highest mark of distinction to Canadian consulting engineers "who have served the Association in an exceptional way either by diligent work within the Association or by contributing to the stature of consulting engineering by their general accomplishments."
2019 ACEC CHAIR'S AWARD
Jean-Marc Carrière, CPA, former ACEC Vice-President of Finance and Administration
This award is bestowed annually by the ACEC Chair to an individual that has made exceptional contributions to the Canadian consulting engineering industry.
2020 ALLEN D. WILLIAMS SCHOLARSHIP AWARD
Nicholas C. Kaminski, P.Eng., M.Eng., PMP
The Allen D. Williams Scholarship is presented annually to a young professional (YP), employed by an ACEC member firm, who demonstrates a commitment to the consulting engineering industry in their province or territory.
2019 CANADIAN CONSULTING ENGINEERING AWARDS

The Canadian Consulting Engineering Awards are presented annually by the Association of Consulting Engineering Companies with Canadian Consulting Engineering magazine. Awards are bestowed to ACEC member firms who have achieved the highest level of excellence in quality of engineering, innovation and societal benefit. Categories recognize projects that are both technical and non-technical in nature and winners are selected by a panel of judges overseen by Canadian Consulting Engineer magazine. In 2019, twenty projects, in a range of categories, were recognized with Awards of Excellence and, of these, four were selected for additional recognition with Special Achievement Awards, including the prestigious Schreyer Award.
SPECIAL ACHIEVEMENT AWARDS
SCHREYER AWARD
The Schreyer Award is presented to the designers of the project with the highest technical merit. The Award is named in honour of former Governor General Edward Schreyer.

Solving Small Community Drinking Water Challenges
WSP
North Vancouver, BC

OUTREACH AWARD
The Outreach Award is presented for a company's role in donating their time and/or services for the benefit of a community or group either in Canada or on the international stage.
Solving Small Community Drinking Water Challenges
WSP
North Vancouver, BC


TREE FOR LIFE AWARD
The Tree for Life Award is presented to the designers of a project that has distinguished itself by its commitment to the environment.
Kaliti Wastewater Treatment Plant and Sanitary Sewer Trunk Mains
Morrison Hershfield
Addis Ababa, Ethiopia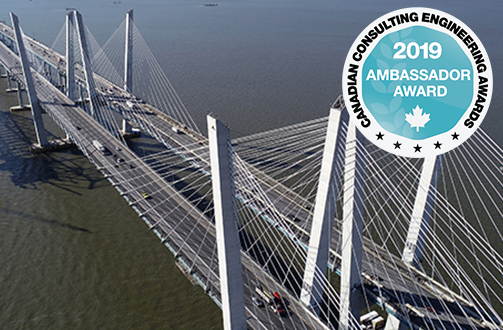 AMBASSADOR AWARD
The Ambassador Award is presented to a project constructed or executed outside of Canada, which best showcases Canadian engineering expertise.
Governor Mario M. Cuomo Bridge
COWI
South Nyack to Tarrytown, New York, USA

ENGINEERING A BETTER CANADA AWARD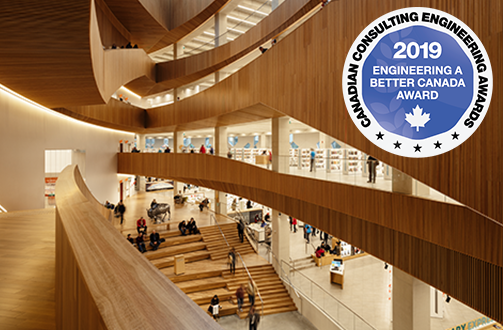 The Engineering a Better Canada Award is presented to a project that best showcases how engineering enhances the social, economic or cultural quality of life of Canadians.
Calgary's New Central Library
Entuitive
Calgary, AB
AWARDS OF EXCELLENCE

BUILDINGS
Royal Alberta Museum
DIALOG
Edmonton, AB
Calgary's New Central Library
Entuitive
Calgary, AB
Transformation of the Wilder Building
SNC-Lavalin inc. & Bouthillette Parizeau
Montreal, QC
evolv1
Stantec Consulting Ltd.
Waterloo, ON
TRANSPORTATION
Governor Mario M. Cuomo Bridge
COWI
South Nyack to Tarrytown, New York, USA
Cloudraker Skybridge and Raven's Eye
Morrison Hershfield
Whistler, BC
Construction of the new 112 highway (Black Lake)
Norda Stelo & SNC-Lavalin
From Saint-Joseph-de-Coleraine to Thetford Mines (Black Lake sector), QC
Johnson Street Bridge Replacement
WSP
Victoria, BC
ENVIRONMENTAL REMEDIATION
CO2 Capture and Valorization
BBA
Saint-Félicien, QC
WATER RESOURCES
Bridging the Hydrometric Data Gap, Lake Huron
Golder
Tiverton, ON
Calgary Zoo Flood Mitigation
ISL Engineering and Land Services Ltd. & Associated Engineering
Calgary, AB
Shedding UV Light on Greater Vernon's Water System
WSP
Vernon, BC
NATURAL RESOURCES, MINING, INDUSTRY, ENERGY
Old Crow Solar Project
BBA
Old Crow, Yukon
OXEC II Hydroelectric Project
Hatch
Rio, Guatemala
SPECIAL PROJECTS
Place des Canotiers
CIMA+ & Tetra Tech
Quebec, QC
Mechanized River Valley Access
DIALOG
Edmonton, AB
Intelligent Structural Panel (ISP)
Quasar Consulting Group Inc., in partnership with Stephenson Engineering, WZMH Architects, and C3PoE
Mississauga, ON
PROJECT MANAGEMENT
Livestock and Forage Centre of Excellence
Associated Engineering
Rural Municipality of Blucher, SK
INTERNATIONAL
Kaliti Wastewater Treatment Plant and Sanitary Sewer Trunk Mains
Morrison Hershfield
Addis Ababa, Ethiopia
COMMUNITY OUTREACH AND IN-HOUSE INITIATIVES
Solving Small Community Drinking Water Challenges
WSP
North Vancouver, BC