Throughout the 2019-2020 fiscal year, ACEC continued to speak out on several national issues to create a stronger business climate for its members. Our team is proud of the important work we have accomplished over the past year on behalf of you, our members. Below is a snapshot of what we achieved.


The 2019 federal election made for a hectic six months as our team worked to ensure the voice of consulting engineering was heard by the major parties and the hundreds of candidates who ran for office. To achieve this, we created Infrastructure the Right Way, a comprehensive election plan with two clear concise priorities.
Our first priority focused on infrastructure spending and had a clear message: funding must be accelerated, because we know from speaking to our member firms in many parts of the country that expected dollars committed under the Investing in Canada and Building Canada programs are not always hitting the streets in a timely manner. And infrastructure spending needs to be predictable and sustained because program gaps make it difficult for our industry and our clients and partners to effectively deliver on the projects that improve our communities and drive our economy.
Our second priority touched on the need for a national infrastructure corridor. What is a national infrastructure corridor? It's a series of pre-established right of ways that would connect all regions of Canada. Imagine a geographical "footprint" from coast to coast to coast with all environmental assessments and other regulatory requirements needed to build infrastructure such as rail, telecommunications, pipelines, on in that footprint completed. A national corridor would allow proponents to launch major projects with certainty. It would address social and environmental concerns, allow progress and economic growth, and encourage sustainable resource development.
To put our priorities front and center in the minds of all the candidates, we created an election focused website – investinfrastructure.ca – to showcase our election priorities and recommendations. The site also provided our analysis of the election platforms from the major parties, with an eye to how they were proposing to addressing infrastructure if elected. The site also allowed visitors to communicate directly with the candidates in their riding by sending an electronic letter to each calling on their support for infrastructure investment done the right way.
Social media was another vehicle used to get the message out to our stakeholders. Our Twitter, LinkedIn, and Instagram posts promoted our election priorities, provided social media shareables, and kept our followers up to date on the announcements made by the parties throughout the campaign period.
The pre-election timeframe proved to be as important as the election period itself. For this reason, the tactics of our Infrastructure the Right Way election plan were put in place well before the writ dropped in September 2019. Our goal was to ensure the voice of our industry was heard by the party platform committees as well as the candidates from the various major parties before the election. In May 2019, we shared our key messages and policy "asks" with the platform committees of the major parties. Questionnaires were also issued to the party leaders seeking their input on matters related to infrastructure investment and support of the natural resource sector. That June, we met with senior bureaucrats and Members of Parliament, including the Minister of Infrastructure and Communities, to deliver our message directly to sitting candidates prior to the House rising for the summer. Throughout the summer and during the election period, we promoted our letter writing campaign and shared party platform analysis and questionnaire responses on the investinfrastructure.ca website.
(L-R: ACEC President & CEO John Gamble, the Honourable François-Philippe Champagne former Minister of Infrastructure & Communities, Past ACEC Chair Mike Snow, & ACEC Vice-President Martine Proulx.)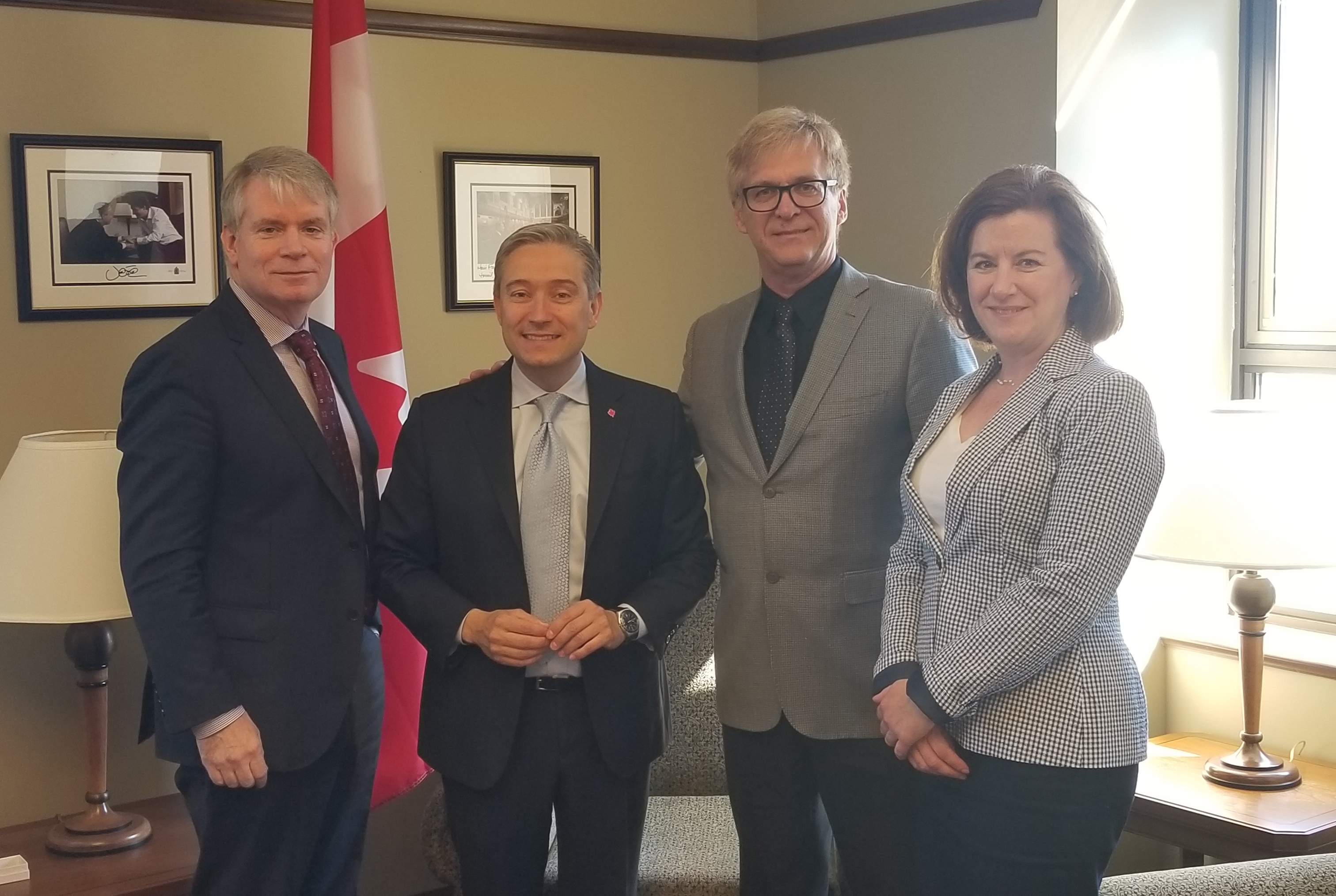 Following the election, ACEC transformed its election plan into a post-election strategy to ensure key messages continued to be heard by returning and newly elected Members of Parliament. In February, ACEC hosted a breakfast panel session for Members of Parliament to continue efforts to educate elected officials on the importance of investing in infrastructure and nation-building projects. ACEC was supported by the Federation of Canadian Municipalities, the Canadian Construction Association, the Canadian Council of Private Public Partnerships and the First Nations Major Projects Coalition who all participated in the panel moderated by ACEC-Canada President and CEO John Gamble.


PROMOTING RESPONSIBLE RESOURCE DEVELOPMENT
Over the course of 2019, we continued to speak out on behalf of our members and clients in the resource sector. In April 2019, John Gamble, ACEC-Canada President and CEO, and Christy Cunningham, Executive Director of ACEC-NB, testified before the Senate Committee on Energy, the Environment and Natural Resources on Bill-C69, the Impact Assessment Act.
(L-R: ACEC-NB Executive Director Christy Cunningham and ACEC-Canada President and CEO John Gamble pictured with Top L-R: Conseil économique du Nouveau-Brunswick CEO Thomas Raffy, Saint John Region Chamber of Commerce CEO David Duplisea, and CEO of Atlantic Chamber of Commerce Sheri Somerville, BBA, BPR, SCMP.)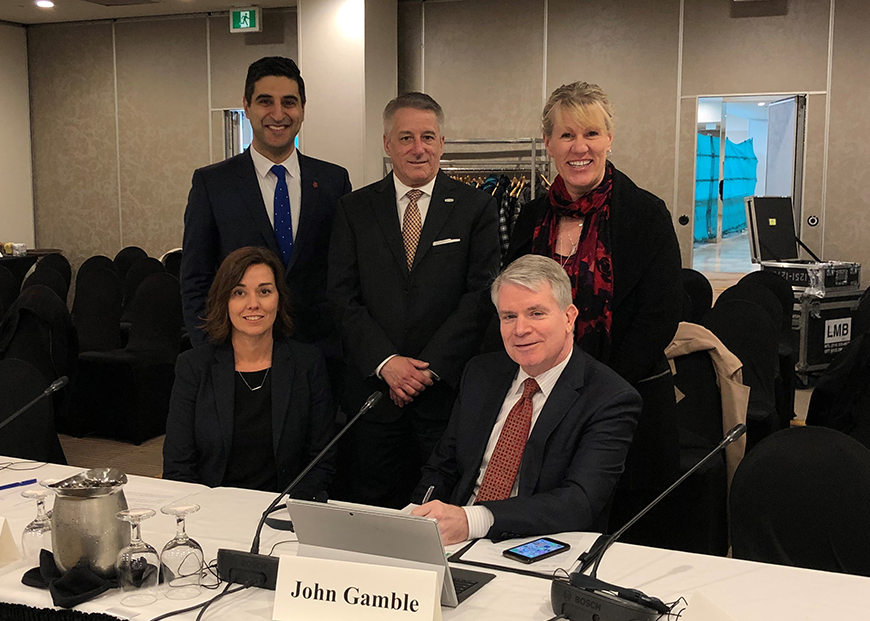 In their testimony, Ms. Cunningham and Mr. Gamble applauded the government's review of the regulatory system because improved consultation, transparency and clarity in the environmental assessment process is needed to make Canada an attractive market for private investors. However, in their testimony, they also expressed our industry's concern with the lack of clarity with Bill C-69 as originally drafted and its potential contribution to the 'cumulative impact' of regulation on investment in projects in Canada. ACEC-Canada and ACEC-NB made several recommendations, including the need to address major concerns in the Act itself rather than through regulations that would follow to ensure a robust, efficient, effective and transparent process. The Senate proposed close to 200 industry friendly amendments to the Bill, including limitation to politicians' ability to make final decisions on project reviews, a tightening of the timelines for the review process. The Bill was passed with 62 of the Senate proposed amendments while 37 were altered by Cabinet before being put to the House for a vote. While ACEC supports sound regulations, we continue to be concerned that lack of clarity around scope and timing will be an issue. For this reason, we will encourage the government in the coming months to hold workshops with industry stakeholders so that regulations can be crafted that clearly define each of the proposed "impact factors" in the Bill and provide clear guidance to proponents on addressing each factor.
NATIONAL INFRASTRUCTURE CORRIDOR GAINS MOMENTUM
In December, ACEC was one of four national associations invited to join members of the Alberta cabinet for a roundtable discussion on strengthening the Alberta economy while balancing economic and environmental considerations. The Ministers, along with Premier Kenney, were in Ottawa for discussions with the federal government and national stakeholders. Discussions included improving federal-provincial and interprovincial relations, improving regulatory clarity and building support for a national infrastructure corridor. ACEC, with the support of Consulting Engineers of Alberta, led discussions on the potential benefits of a national corridor – a network of pre-planned and pre-approved rights-of-way available to major nation building projects. Creation of a national infrastructure corridor would be an exercise in extensive consultation and sound land-use planning principles. It could eliminate the need for multiple reviews of major nation building projects. It would allow governments to review and consult with First Nations and local stakeholders. It would accommodate multiple infrastructure assets resulting in a smaller geographical and environmental footprint and reducing the impact on surrounding land uses. A national infrastructure corridor would make it easier and more economically viable to connect northern and remote communities to vital and quality of life enhancing infrastructure.
ACEC had organized a national infrastructure corridor roundtable to take place at the end of March that would have brought together relevant stakeholder organizations – like the Canadian Chamber of Commerce, the Canadian Federation of Municipalities, the Canadian Association of Petroleum Producers, First Nation Major Projects Coalition – to look at ways of advancing this nation building idea and amplify our voice. This activity was postponed indefinitely due to the COVID-19 crisis.
MOVING THE YARDSTICK ON QUALIFICATION-BASED SELECTION (QBS)
ACEC continued again this past year to actively promote the use of Qualification-Based Selection to private and public-sector clients as the procurement method of choice for consulting services. To support these efforts, we are helping finance a national QBS study by the University of Alberta that will capture important data that will quantify the benefits of QBS. As a result of ongoing QBS lobbying by ACEC and other partners, Public Services and Procurement Canada (formerly PWGSC) launched a pilot using true Qualifications-Based Selection. To date, four major projects have been launched using QBS as the procurement method.
SUPPORTING COLLABORATION AMONG FIRST NATIONS AND INDUSTRY
In March an ACEC delegation led by Chair Lawrence Lukey were among over 200 participants from Industry and First Nations gathered in Prince George, BC for presentations and roundtables on how engagement and partnering with First Nations can result in more responsible and more successful major project development. The topics of discussion included First Nations equity ownership, project finance, environmental stewardship and major project assessment standards. Mr. Lukey was accompanied by President & CEO John Gamble, Vice-President Martine Proulx and ACEC-BC CEO Caroline Andrewes. As well as ACEC, our sector was also represented by Morrison Hershfield and RAM Engineering. Other industry participants included a broad range of guests from oil and gas, project finance and banking, construction, engineering, and renewable energy sectors.
The event was organized by the First Nations Major Projects Coalition (FNMPC), which was formed by several First Nations to examine how ownership of major resource projects on their lands could be facilitated; and how environmental practices can be improved to meet their needs. On day two, the Chair of the First Nations Major Projects Coalition Chief Sharleen Gale, released specific recommendations on how the Government of Canada should approach the development of a new national benefits sharing framework for major projects on Indigenous territory. Chief Gale was joined by Chief Corrina Leween of the Cheslatta Carrier Nation, John Gamble, President and CEO of the Association of Consulting Engineering Companies – Canada, and Mark Romoff, President and CEO of The Canadian Council for Public-Private Partnerships at the announcement.
SHOWCASING THE IMPACT OF CONSULTING ENGINEERS
The highlight of ACEC's effort to showcase the industry is the Canadian Consulting Engineering Awards, co-presented with Canadian Consulting Engineer magazine. The CCE Awards are recognized as the industry's highest honours, offered only to the most remarkable engineering feats featured in projects by Canadian firms. Twenty projects in various categories were honoured with Awards of Excellence; of these, five were selected for additional recognition with Special Achievement Awards, including the prestigious Schreyer Award.
Our award winners were featured in our award winning #20DaysofExcellence campaign, which featured each winning project on social media on a different day throughout the month of November.
The Beaubien Award, which recognizes outstanding contributions to ACEC and to the advancement of consulting engineering, was also presented that evening. This year's recipient was François Plourde, P.Eng., President & CEO of CIMA+ and a former Director on the ACEC Board.
ACEC also oversees the process for awarding the prestigious Allen D. Williams Scholarship to a young professional within a member firm. This scholarship is awarded annually to those who demonstrate a commitment to the consulting engineering industry. This year Nicholas Kaminski, P.Eng., M.Eng., PMP, of KGS Group was selected.
RECOGNITION FOR OUR #20DAYSOFEXCELLENCE CAMPAIGN
ACEC's #20DaysOfExcellence campaign was recognized for excellence with two separate awards this year. At the International Federation of Consulting Engineers (FIDIC) annual conference and awards gala, our Communication team took home an MA Award for the Best advancement of a cause, advocacy campaign or event. The team was also recognized by the Canadian Society of Association Executives (CSAE) with an Award of Excellence in the Deliver Value to Member and Stakeholder Segments category.
MAKING CONSULTING ENGINEERING A CAREER OF CHOICE
ACEC's ongoing partnership with the Canadian Federation of Engineering Students (CFES) provides ACEC the opportunity to introduce engineering students to consulting engineering as a rewarding career that makes a meaningful difference. Our active student outreach program in 2019 included providing keynote speeches, participating interactive panel discussions and participating in career fairs and other networking events at annual CFES events.


ENGAGING INDUSTRY LEADERS
The second annual ACEC Executive Forum brought together senior executives representing the leadership of Canada's consulting engineering sector to discuss trends, strategies, emerging best practices and new approaches to the big issues we face organizationally and as a sector. Over 30 C-suite representatives of ACEC member firms came together as peers for open discussions on the consulting engineering sector today and their vision for its future.
ENGAGING MEMBERS – CREATING OPPORTUNITIES
The ACEC national leadership conference, which took place in October, is the only opportunity for members to come together from across the country to learn of the latest industry trends, challenges and opportunities, and to network with peers and national decision makers. The business program featured an impressive line-up of industry leaders, stakeholder experts, thought leaders and media pundits who shared and interacted with the delegates on a host of issues.
To support the development of rising stars in our industry, ACEC launched a new professional development activity this fall – our first ever ACEC Young Professionals Forum took place on October 26 & 27. The forum permitted participants to hone their skills through professional development and networking opportunities targeted specifically to young professionals in the consulting engineering sector. The program, developed by ACEC-Canada staff and members of the ACEC Young Professionals Network (YPN), challenged them to think critically and apply their creativity and communication skills to a variety of activities.
Our communications strategy to build the profile of the association and to engage with members, stakeholders, government and engineering students was executed using various vehicles. Our Source newsletter audience continues to grow and our social media reach continues to expand with the addition of an ACEC-Canada LinkedIn page. In March we also launched the new ACEC website, a welcomed and refreshed look with improved navigation and video capabilities.
We also leveraged events by the Provincial/Territorial Associations to provide our Board the opportunity to engage directly with member firms, regional stakeholders and provincial and municipal government officials. John Gamble and ACEC Chair of the Board criss-crossed the country to take part in a variety of events in several provinces to better understand the regional challenges faced by our member firms. We pride ourselves on working collaboratively with the Provincial /Territorial Associations to deliver products and services to our members and look forward to our continued partnership.
COMMUNICATIONS AND ACTIVITIES IN RESPONSE TO COVID-19 PANDEMIC
In response to the global pandemic COVID-19 and its impact, ACEC immediately implemented several measures to support our members during this time. In March a COVID-19 dedicated section was created on the ACEC-Canada website that features resources and information important to the Canadian consulting engineering industry during this crisis. This section, www.acec.ca/covid19, also includes updates on the activities ACEC undertook to support the industry through the crisis and recovery, along with the communications and messaging distributed to the members.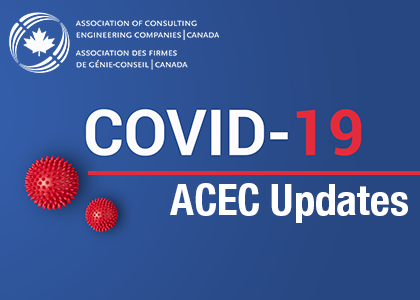 To allow the consulting engineering sector to retain its capacity and expertise so it can help mitigate the current COVID-19 crisis and contribute to the post-crisis recovery ACEC made recommendations to the federal government. By mid-March, ACEC was in direct contact with senior levels of the federal government and many of our stakeholder partners to discuss: possible policy responses to assist businesses in protecting their employees, ways to ensure both the immediate and long-term survival of businesses, and how to stabilize and rebuild the economy through the post-crisis recovery. ACEC's main recommendations to the government has been: to confirm that the planning, design, construction and operation of important infrastructure are essential services nation-wide; and to stay the course on, if not accelerating, current infrastructure projects, plans and commitments. These points were among several we stressed in our letter to the Prime Minister and several key cabinet ministers.
During discussions with the leadership at Infrastructure Canada, ACEC President and CEO John Gamble emphasised the role of infrastructure in general - and the consulting engineering sector in particular – to Canada's resilience to and recovery from the crisis. He raised the need for firms to start designing six months to two years before there are shovels in the ground should the government decide to drive stimulus through infrastructure. He also stressed our industry's significant capacity to work remotely to ensure the health and safety of employees and adherence to the government's social distancing requirements.
As well as its own outreach, ACEC has also worked closely with the Canadian Chamber of Commerce and over 100 other business associations across Canada that make up the Canadian Business Reliance Network on steps to protect and support businesses through the crisis. Along with these organizations, ACEC participated in a joint statement to governments across the country in support of national efforts to protect jobs including access to credit and the Canada Emergency Wage Subsidy (CEWS).
ACEC will continue to collaborate with its partners as well as government and elected officials in the coming weeks and months to ensure the contribution and role the consulting engineering industry can make to the crisis recovery is recognized and utilized. We will also press forward with our efforts to help secure the financial support required to ensure the viability of our member firms and our industry in the near and long term.