2020 BEAUBIEN AWARD
The Beaubien Award (in honour of Dr. James de Gaspé Beaubien) is conferred as the highest mark of distinction to Canadian consulting engineers "who have served the Association in an exceptional way either by diligent work within the Association or by contributing to the stature of consulting engineering by their general accomplishments."
2020 ACEC CHAIR'S AWARD
This award is bestowed annually by the ACEC Chair to an individual that has made exceptional contributions to the Canadian consulting engineering industry.
2021 ALLEN D. WILLIAMS SCHOLARSHIP AWARD
Julie DiCicco, M.A.Sc., P.Eng.
The Allen D. Williams Scholarship is presented annually to a young professional (YP), employed by an ACEC member firm, who demonstrates a commitment to the consulting engineering industry in their province or territory.
2020 CANADIAN CONSULTING ENGINEERING AWARDS
The Canadian Consulting Engineering Awards are presented annually by the Association of Consulting Engineering Companies with Canadian Consulting Engineering magazine. Awards are bestowed to ACEC member firms who have achieved the highest level of excellence in quality of engineering, innovation and societal benefit. Categories recognize projects that are both technical and non-technical in nature and winners are selected by a panel of judges overseen by Canadian Consulting Engineer magazine. In 2020, twenty projects, in a range of categories, were recognized with Awards of Excellence and, of these, three were selected for additional recognition with Special Achievement Awards, including the prestigious Schreyer Award.
SPECIAL ACHIEVEMENT AWARDS
SCHREYER AWARD

The Schreyer Award, the highest national honour for engineering in Canada, is presented to ta project that best represents exceptional technical expertise and overall engineering excellence.
The Award is named in honour of former Governor General Edward Schreyer.
Samuel De Champlain Bridge Corridor
SNC-Lavalin
Montreal, Quebec

TREE FOR LIFE AWARD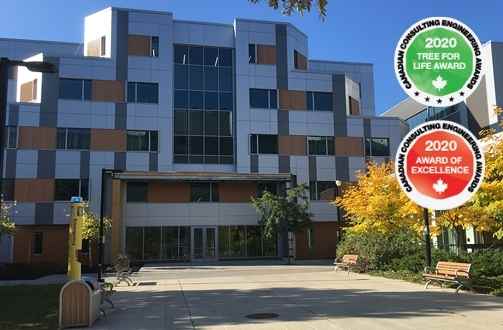 The Tree for Life Award is presented to the designers of a project that has distinguished itself by its commitment to the environment.
Building NX, Humber College
Morrison Hershfield
Etobicoke, Ontario

BUILDING A BETTER CANADA AWARD

The Engineering a Better Canada Award was created to recognize and celebrate the important contributions this industry makes to society. The award honours projects that were delivered in Canada and enhanced in a meaningful way the quality of life of the residents in that community.
Arviligruaq Ilinniarvik School
Accutech Engineering Inc.
Kugaaruk, Nunavut

AWARDS OF EXCELLENCE
BUILDINGS

Arviligruaq Ilinniarvik School

Accutech Engineering Inc.
Kugaaruk, Nunavut

Government Conference
Centre Rehabilitation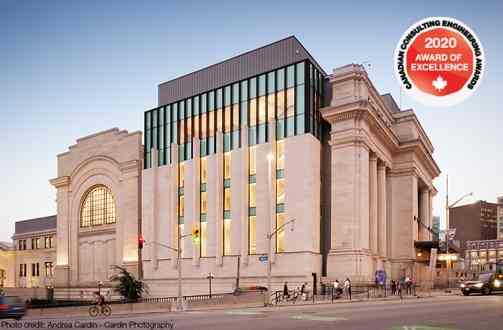 John G. Cooke & Associates Ltd.
Ottawa, Ontario

Building NX, Humber College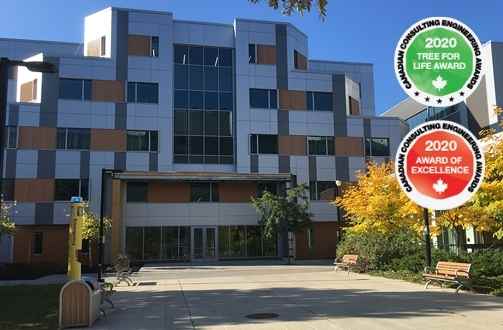 Morrison Hershfield
Etobicoke, Ontario

West Block Rehabilitation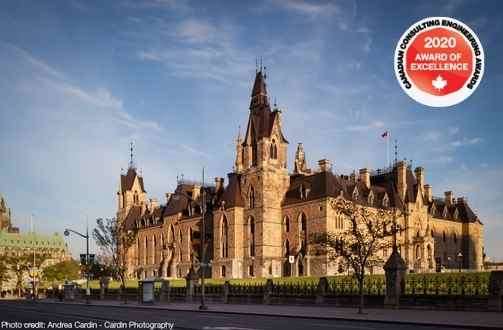 Ojdrovic + Cooke Engineers in Joint Venture
Ottawa, Ontario

GNW Pavilion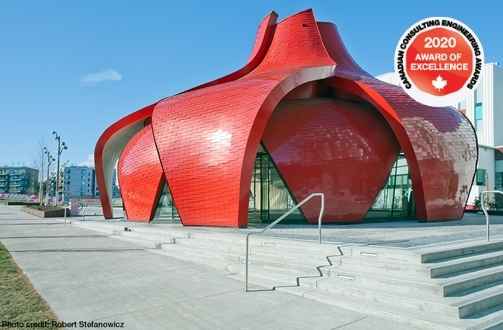 RJC Engineers
Vancouver, British Columbia

Jim Pattison Children's Hospital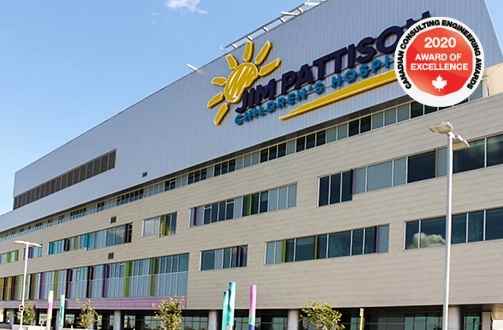 Daniels Wingerak Engineering Ltd.
Saskatoon, Saskatchewan

Infrastructure improvements
to the National Assembly of Quebec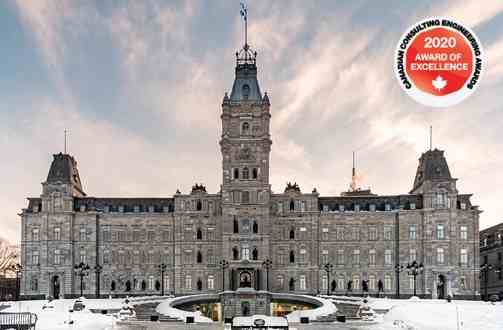 WSP
Quebec, Quebec

TRANSPORTATION

Rehabilitation of Historic Blackfriars Bridge

Dillon Consulting Limited
London, Ontario

Garrison Crossing - Fort York
Pedestrian and Cycle Bridge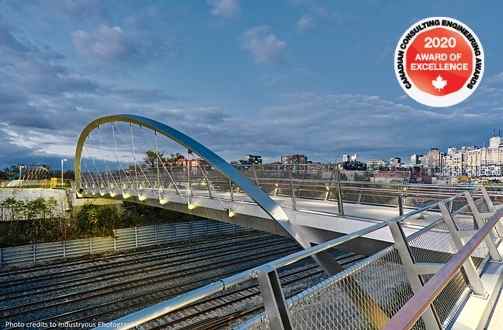 Pedelta Canada Inc
Toronto, Ontario

Samuel De Champlain Bridge Corridor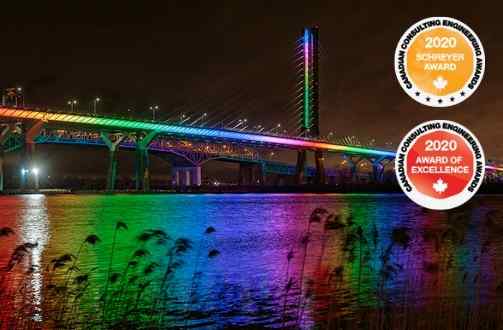 SNC-Lavalin
Montreal, Quebec

WATER RESOURCES

McLoughlin Point WWTP HDPE Outfall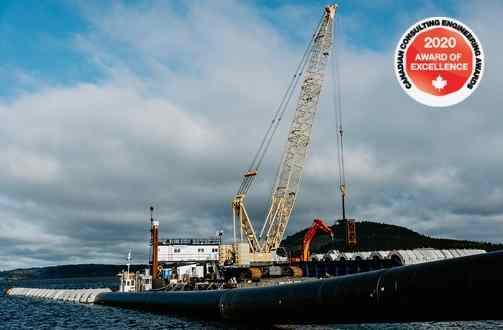 AECOM Canada Ltd.
Victoria, British Columbia

Dawson City Water Treatment Plant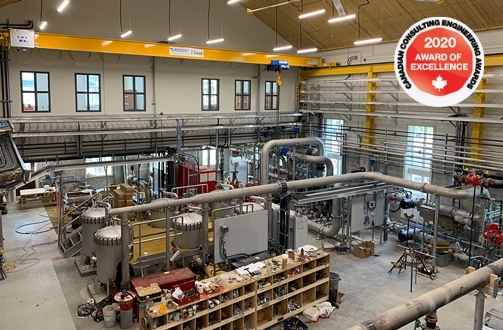 Associated Engineering
Dawson City, Yukon

Mid Halton Wastewater Treatment Plant,
Micro-Hydro Facility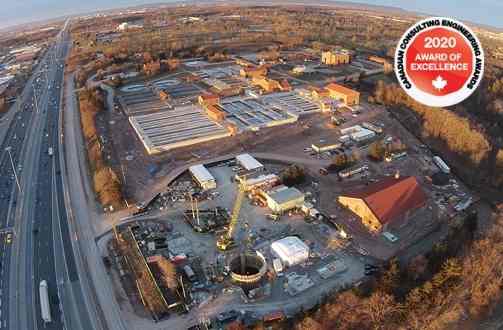 Hatch
Oakville, Ontario

Northwest Arm Trunk
Sewer Rehabilitation Project

Robinson Consultants Inc.
Halifax, Nova Scotia

ENVIRONMENTAL REMEDIATION

Bioengineering Restores Ecological Loss
after Wildfires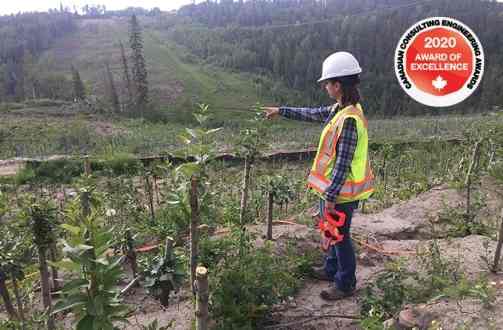 Associated Engineering
Fort McMurray and vicinity, Alberta

NATURAL RESOURCES, MINING, & INDUSTRY

Meliadine Mine Cogeneration Plant

BBA
Rankin Inlet, Nunavut

PROJECT MANAGEMENT

Mould Bay Causeway Reconstruction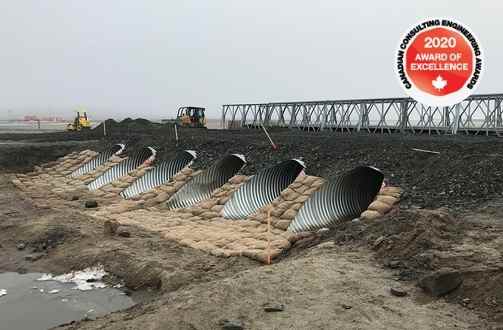 Englobe
Prince Patrick Island, Northwest Territories

Vaudreuil VB 2022 - Phase I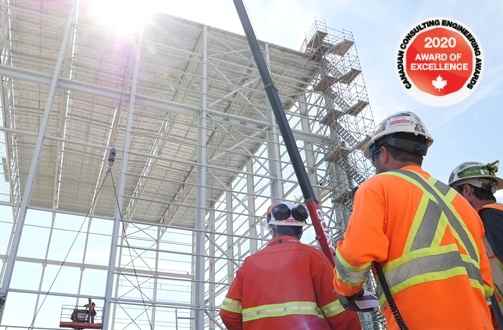 Hatch
Saguenay, Quebec

BCIT North Campus Infrastructure Project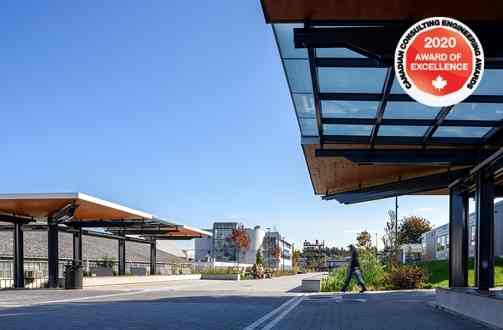 R.F. Binnie & Associates
Burnaby, British Columbia