David Murray, P.Eng.
Chair of ACEC-Canada Board 2021-2022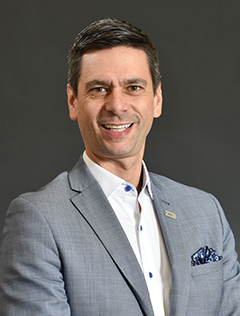 Colleagues,
This past year, it has been my tremendous honour to serve you all as Chair of ACEC's Board of Directors. While it was another year of unprecedented challenges – from supply chain issues to staffing shortages – we all faced it head-on with unparalleled skill and professionalism.
When I assumed the role of Chair last year, I reiterated to members the old adage that with challenge comes opportunity. Over the past year, our ability to problem-solve quickly and pivot effectively, time and time again, has been a testament to that truth. Our members continue to make enormous contributions to our communities, whether it's advancing environmental sustainability, supporting the next generation of consulting engineers, or strengthening our economy. I feel strongly today – as I did then – that the future of our consulting engineering industry is bright.
With exemplary agility, innovation, and optimism, our members and the entire consulting engineering industry continue to prove their resilience in the face of adversity. Throughout the biggest global health crisis in a century, we have remained laser-focused on growing our industry to be stronger and more sustainable than ever, with a diversity of voices contributing to its success.
This has certainly been the focus for the Board and I, and with these goals in mind, we have worked together and managed some big wins for our industry.
It's been remarkable to see ACEC solidify its position as a trusted government stakeholder with the expertise needed to make positive impacts on Canada's public policy. ACEC continues to build strong partnerships with federal officials and policymakers, tirelessly advocating for smart policies while emphasizing the critical role consulting engineers play in building resilient communities.
There were many notable examples of effective ACEC advocacy over this past year. When the House of Commons Standing Committee on Transport, Infrastructure and Communities undertook a study on how infrastructure investments benefit Canadians, ACEC strongly championed more flexible and better targeted infrastructure programming. ACEC's testimony and recommendations were prominently featured in the Committee's report that was presented to Parliament. Our virtual Parliament Hill Day was also a success – members from across the country spoke directly with 27 parliamentarians from all major political parties to highlight issues important to our industry and advocate for ACEC Budget recommendations. And on that note, Budget 2022 was good news for our industry, with a particular focus on economic growth, clean energy projects, and critical mineral supply chains – all of which will benefit ACEC members over the coming years. Positioning Canada as a global supplier of critical resources is an area of which I am very passionate. Not only do we have the required critical and strategic minerals within our boarders for our country to become a leader of transportation electrification, but our industry has the expertise to guide the nation's resource sector in their sustainable and responsible extraction. We are also well positioned to explore and identify opportunities to process these raw materials here in Canada, another area the consulting engineering industry can play an important role in achieving a greener economy.

We also continue our work with the government in developing Canada's first-ever National Infrastructure Assessment. If designed correctly, and in partnership with our industry, it has the potential to accomplish many things for which ACEC has long advocated, acting as a central tool for improving infrastructure and tracking its progress in communities across the country. Not only will this benefit our industry, more importantly it will benefit all Canadians. ACEC will continue working hard on behalf of our members to promote sound public policy that contributes to a more sustainable environment, stronger communities, and a thriving economy.
In addition to public policy advocacy, ACEC continues to advocate strongly for Qualifications Based Selection (QBS) for government procurement of professional engineering services. This year, interest in QBS was bolstered by the release of three new studies that prove that QBS fosters greater efficiency, quality, collaboration, and innovative solutions. This data will allow our team to effectively advocate for this internationally recognized procurement practice.
Something that is of particular importance to me is our industry's contributions in building a strong and sustainable future. As you all know, consulting engineering companies are uniquely placed to create a cleaner economy by guiding our clients on decisions that help restore the environment and mitigate the negative impacts of climate change. ACEC's recently formalized position on climate change is an important reminder of the urgent and exciting opportunity for our industry to advance practical climate solutions, particularly in the fields of green energy and electric transportation.
I've also been especially proud of the work of ACEC members when it comes to encouraging up-and-coming talent in the consulting engineering industry, particularly women and racialized Canadians. I know many of you have been supporting diversity and the next generation of engineers, whether it's providing internship opportunities, engaging with local students, or becoming mentors to young people in your community. This work is absolutely crucial, and it will take all of us working together to ensure a strong, inclusive future for our industry.
Our accomplishments throughout this past year were made possible thanks to some incredible people working in service of our industry – notably, our Board of Directors. I'd like to extend my sincere thanks to this brilliant team of professionals who brought their expertise and enthusiasm to their work every single day. I also couldn't be more grateful to the volunteers and staff members within our member organizations and firms across the country – they do excellent work to support our industry, and we're lucky to have them.
Of course, a huge thank you is owed to John Gamble, President and CEO of ACEC-Canada, and his entire team – all of whom work hard to ensure that consulting engineering companies in every corner of the country have their voices heard in Ottawa. Their ability to support our members and respond quickly and effectively to their needs has proven to be invaluable, particularly during another year of unique challenges.
And last, but certainly not least, I'd like to congratulate the new Chair of our Board of Directors, Tim Stanley, and give a warm welcome to the incoming Board of Directors. Tim and the incoming Board bring vast knowledge and industry experience to the table, and I very much look forward to their valuable contributions to our industry.
Respectfully,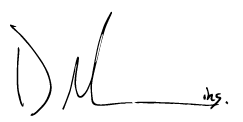 David Murray, P.Eng.
Chair, Board of Directors 2021-2022