Calgary, Alberta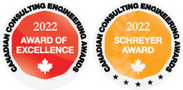 The Calgary Airport Authority needed a centralized de-icing facility to improve operational efficiency. Stantec designed the East De-icing Apron with a diversion structure to treat glycol runoff. The project successfully reduced average taxi times from 40 to 17 minutes, improved passenger experience, and reinforced the Airport Authority's environmental stewardship. This project allows the airport to be self-sufficient in recycling spent glycol and removes the chemical treatment burden off the City of Calgary. In selecting this project, the jury noted the dynamic grading approach that allowed the team to rapidly produce shop drawings and deal with changes during construction. The innovative use of VR in their design work, an emerging direction for the future of engineering, was another standout feature of the project.
View ACEC's press release for this project.
View more about this project in Canadian Consulting Engineer magazine.

Hear what the Jury Chair had to say about this project.
Learn more about the Schreyer Award.