Pincher Creek, Alberta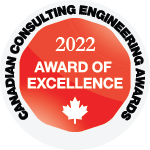 BBA participated in the design and commissioning of Alberta's first grid-scale battery energy storage system (BESS). The facility, owned by TransAlta Renewables, captures and stores energy generated at the 66 megawatt Summerview II wind farm. It then discharges it to the grid during times of peak demand or low wind conditions. With a nameplate capacity of 10 megawatts, a total energy storage capability of 20 megawatt-hour and 2-hour charge time, the facility officially began its commercial operations in October 2020. By supporting decarbonization, this innovative project has set Alberta on a course for a greener future. The jurors selected this project for its impressive project management process that proactively addressed the regulatory requirements, and for successfully demonstrating how to effectively connect wind and solar energy within a power grid.
View ACEC's press release for this project.
View more about this project in Canadian Consulting Engineer magazine.