Kitchener, Ontario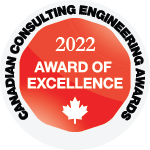 The Region of Waterloo operates several conventional wastewater treatment plants that produce digester gas as a waste by-product. CH2M HILL Canada Limited, a Jacobs Company, led the design and services during construction for the installation of cogeneration facilities at the Region's three largest plants: Waterloo, Kitchener, and Galt. The team delivered a practical and innovative design that offered economic and environmental benefits to the Region and its residents. By capturing the energy in digester gas and using it to generate both electricity and heat, the Region took a substantial step towards a greener future. The jury found this project to be noteworthy given the complexity of dealing with three sites, each with a different quality of digester gas. It represents a big step towards sustainability as it significantly offsets the electrical demands of all three facilities.
View ACEC's press release for this project.
View more about this project in Canadian Consulting Engineer magazine.