Windsor, Ontario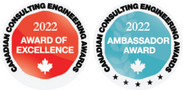 AECOM, as a member of Bridging North America (BNA), is lead designer on the Gordie Howe International Bridge working on behalf of Windsor-Detroit Bridge Authority (WDBA). Establishing the Environmental Management System (EMS) was a complex process that needed to satisfy environmental regulations from Canada, the U.S., Ontario, and Michigan. In addition to the complex regulatory framework, the EMS follows the requirements of various environmental assessments that were completed in the project planning stage which spanned over a decade. Together with WDBA and BNA, AECOM's environmental team developed and implemented an award-winning, ISO Certified Environmental Management System that meets Canadian and American regulatory requirements, one of the first P3 projects in Canada to achieve this certification. This project was recognized by the jury for the instrumental role the EMS will play in meeting commitments and mitigating environmental impacts on a highly complex project involving multiple stakeholders in two countries.
View ACEC's press release for this project.
View more about this project in Canadian Consulting Engineer magazine.
Hear what the Jury Chair had to say about this project.
Learn more about the Ambassador Award: