Saskatoon, Saskatchewan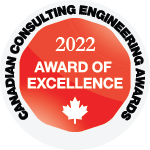 Wanuskewin Heritage Park near Saskatoon is a world-renowned research centre that honours Indigenous peoples and educates visitors about local Indigenous tribes. The Park Authority saw an opportunity to return a resident herd of genetically pure bison to the Northern Plains. Associated Engineering was retained to design, tender, oversee construction, and manage the $3.5 million program to build facilities to protect and care for the bison. In 2019, 150 years after they were driven near extinction, bison returned to the Northern Plains. The remarkable restoration of previously farmed land to natural grasslands impressed the jurors. They applauded the team's recognition that the design had to be particular to bison, resulting in a uniquely suitable solution. The jury saw this project as an example of the kind of engagement that will be needed to get large projects done in Canada in the future.
View ACEC's press release for this project.
View more about this project in Canadian Consulting Engineer magazine.