Calgary, Alberta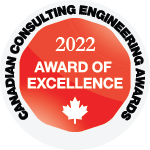 Stantec's Inclusion and Diversity (I&D) program recognizes the importance distinct perspectives and experiences have on delivering innovation and producing transformational work. The program not only focuses on driving I&D in Stantec's offices and projects, but also within the larger engineering industry and community. By providing a range of opportunities, resources, and events, the company encourages employees to take personal accountability and drive change internally and in the communities they serve. The jurors were impressed by Stantec's in-depth program that goes to extensive effort to address cultural bias. Their ongoing commitment to the project - and more importantly the positive results of the program as demonstrated by the composition of their leadership team - were also commended.
View ACEC's press release for this project.
View more about this project in Canadian Consulting Engineer magazine.