Ontario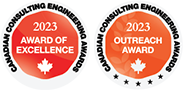 Dillon, as a signatory to the United Nations Global Compact, launched The Million Meals Campaign to help sustainably combat food insecurity across Canada and support the UN's Sustainable Development goal #2 – zero hunger. The project's goal was to provide the equivalent of one million meals throughout the communities where the Dillon team live and work. The campaign focused on targeting root causes of food insecurity to contribute to a transformation of the system for generations. In addition to donating food and volunteering time, to further support this initiative and expand its reach, Dillon solicited proposals from non-profits. Nine food organizations were awarded in-kind pro bono consulting services to further the impact of their work and remove food access barriers in their communities. In March 2022, Dillon met their goal, supporting over 250 organizations across Canada with pro bono projects, direct food donations, and both corporately sponsored and personal volunteer time. The significant donation of 2,000 hours of time was truly noteworthy to the jury as it highlights the team's dedication and generosity. The decision to go beyond monetary donations and provide pro bono engineering expertise showcased the firm's desire to making a lasting impact in the community.
For additional information on this project, click here.

Hear what the Jury Chair had to say about this project.